Engraved in the Possessing the Nations Vision, is the quest to establish indigenous Churches of the Church Of Pentecost which will be relevant to the culture of the societies and Nations at large. This has also become one of the driving forces of the PENSA International. On the 17th of September, 2019, the team led by Eld. Dr. Patrick Adonoo (PENSA International Coordinator) in collaboration with the Aba District Pastor – Pastor Emmanuel Mensah, stormed Tombia an Island town about 20 minutes by boat from Port Harcourt.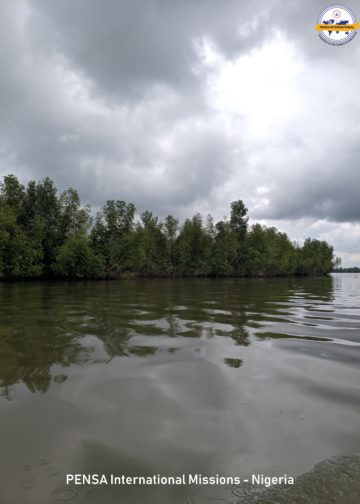 Tombia being a purely indigenous Nigerian community was deemed as very strategic to the COP in Nigeria because of the quest to open indigenous assemblies. Motivated by the Word of God, the twelve (12) member team accompanied by Pastor Femi Baba Tunde (National Youth Leader), Pastor Emmanuel Mensah (Asaba District Pastor), Pastor Chris and Elder Gideon (the Area Deacon of Port Harcourt) stormed the Island city of Tombia at exactly 11:00 am. The team evangelized to the entire community.
God granted the team a lot of many testimonies including leading kidnappers and occults to Christ. God also healed a sick child which brought his entire family of eleven (11) to the saving power of Jesus Christ. Altogether, a total of 46 people gave their lives to Christ. The people of the town started enquiring where the Church of Pentecost could be located and since there was not any in close proximity, an indigenous assembly of the Church of Pentecost was immediately established to the glory of God.