On the mountain in Galilee Jesus commissioned his disciples in these words: "Therefore go, make all the nations disciples…" Matthew 28:19. PENSA TOGO customized these words saying: "Therefore go, make all students disciples, baptizing them in the name of the Father and of the Son and of the Holy Spirit". In fact, the foregoing justifies the need for a meeting of young students and associates held at Maison Baobab on February 19th 2020 in "Université de Lomé" with the view of getting involved in the divine vision and the missions thus, the priorities of PENSA.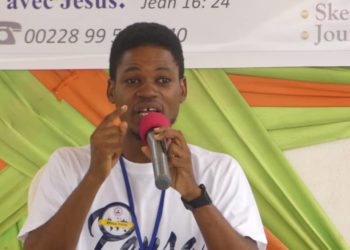 The quick-off was whistled by Pastor Edem with his welcome words followed by a brief praise unto the Lord. All was centered on the theme "Student, you can achieve more with Jesus" from John 16:24, which constituted a debate theme in the unfolding of the program. The program was designed as follows: After presenting themselves and announcing the arrival of the association on Campus, the executive members guided other activities such as:
Presentation with a focus on the visions and missions of PENSA.
Choreography, slam and theatre.
Debate on the theme: that triggered in each participant the flaming desire to be an actor of the divine agenda.
In fact, two teams of student evolved and each according to its conception of the theme, brought forth its arguments on it. Pro and Cons. Team 1 is for the theme sustaining that with Jesus, one can achieve more than he or she is already doing. Team 2, strongly believes that we don't necessarily need Jesus to achieve great things.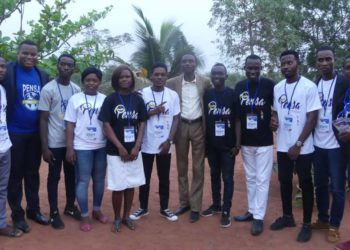 The debate ran, under the close supervision of ministers of the church such as: Apostle Lare, Pastor Hangbare, and Pastor Agbeko and others, who later on shared their views on the theme. All the comments were backed up by a catchy testimony from Ms. Mireille Lare about her student life which consolidated the trend behind the theme. Glory be to God all participants, including the cons team got their mind made up to abide by Jesus' principles.
Yes, this is the rightest time ever for action, and it is a call for each of us under whatever status that both physical and spiritual sleep have ended their reign. We ought to be responsive to the ill goings on our campuses and win lost souls back to Christ, before they are swayed to false doctrines. Students, teachers, ministers etc. all left in one accord: With Jesus, we will achieve more.
CHRIST IN YOU: THE HOPE OF GLORY !..