Nakato Christine, a 55-year-old woman was invited by a Deaconess of the Church of Pentecost Mukono Assembly, for a health screening organized by the PENSA International team (Uganda Force) on Saturday, 7th March 2020.
Christine went through all the processes of the health screening right up to the health counselling center. She seemed fit considering her vitals, body mass index and random blood sugar tests. However, Christine had a complaint which seemed to be her main reason for attending the screening. She had pain and weakness in the left arm which had persisted for 3 years. According to her, she had visited the hospital severally where medications were prescribed. She further stated that she usually regains strength in her left arm after taking the medications but symptoms always came back after medications were done. No medication was given to her. However, the medical team counselled her to take measures towards healthy living since her age is advancing. She was also encouraged to attend the church service the following day being a Sunday believing that the Lord will touch her.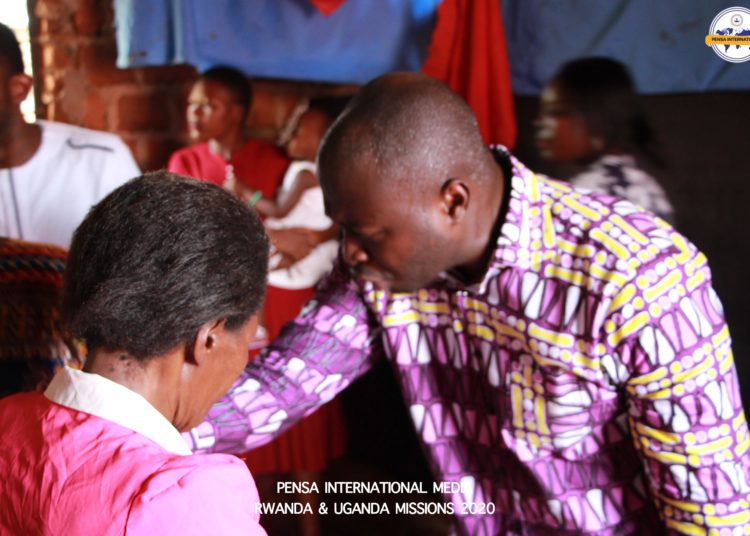 When the team arrived on Sunday for church Service and to continue with the health screening afterwards, Christine was already there participating in the service.
After a powerful ministration of the Word, the team continued with a prayer session during which all the sick were called to be prayed for. Christine answered the call and moved forward. She was prayed for and she went back to her seat.
After the prayer session, the team moved out of the auditorium to set up for Sunday's session of the screening exercise. Christine approached one of the team members shouting "Pastor! Is go! Is go!" She moved her hand rapidly and knowing her previous condition, the team knew something spectacular had happened so they found a translator so she could speak freely in her local dialect. She then declared to God's glory that the symptoms that had persisted for three (3) years went away right after the team laid hands on her and prayed. Hallelujah!
Indeed Jesus Christ is our Doctor par excellence!